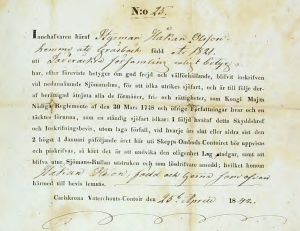 With the Baltic Sea to the east, and the North Sea to the south west, there is a good chance that someone in your Swedish ancestry was a sailor. There are many records associated to sailors. Båtsmän were sailors in the Swedish navy and the military kept track of enlisted personnel. But what about sailors on ships for trade and distribution?
It can be difficult to follow a sailor in the church records because of the constant traveling from one place to another. In this case you can look in the records of the Sailors Home (Sjömanshus.)
The first sailors' home in Sweden was created in Stockholm in 1748. The purpose was to care for sailors who were too old or otherwise unable to work. In 1753 a sailors home was founded in Göteborg. Eventually they were established in all Swedish ports that had rights for international trade. In 1796 there were 38 international ports in Sweden and Finland. Over time the government became involved with the sailors' homes, but there was no legal requirement to have a sailor's home in a Swedish international port until 1864. Altogether there have been about 50 sailor's homes.
A sailor would register with the sailor's home at the "home port" and make donations with the agreement to eventually receive retirement care. The records of the sailors' homes have been preserved in the regional archives. The earlier registration records have less information. In later years you will find the sailors name, birth year, birth place, social standing, place of residence, registration numbers, and when they ended active employment.
The easiest way to search these records is through ArkivDigital as they have digitized sjömanshus records from 37 cities. FamilySearch has a few sjömanshus collections on microfilm. Otherwise you will need to contact a regional archive to do a search for you.
There are some databases that were created from sjömanshus records which may help. The Sjömanshus (also called Sjöfolk) database is available through Riksarkivet SVAR by subscription at http://sok.riksarkivet.se/sjomanshus. It has information from the sailors' homes in Härnösand, Gamlakarleby, Västervik, Hudiksvall, Söderhamn, Gävle, Karlskrona, Oskarshamn, Visby and Örnsköldsvik.
The Demographic Database of Southern Sweden (DDSS) has a Sjömanshus database for Karlskrona for the years between 1871 and 1937 available at: http://tinyurl.com/klq3k48
Source:
* Clemmensson, Per & Kjell Andersson. Släktforska vidare. Natur och Kultur/LTs förlag, Falköping 2003 p. 126
* Riksarkivet, Specialsök: Sjömanshus (sjöfolk) at http://sok.riksarkivet.se/sjomanshus, Stockholm 2014
* Image from: Arkiv Digital, Sjömanshuset i Karskrona EXII:1 (1836-1908), AID: v490445.b8
Share this: